Course Overview
Microservices Certification Training in Electronic City Bangalore:

This Microservices Certification Training in Electronic City Bangalore is designed to help individuals acquire the skills and knowledge needed to design, deploy, and manage microservices. Microservices are distributed applications that are modular in design and are composed of self-contained services. These services are designed to be easily deployable and scalable.
Here are the major topics we cover under this Microservices course in Electronic City Bangalore Syllabus, Evolution of Microservices, Microservices Architecture, Deployment Patterns, Microservices Design, Discovery of Service, Microservices Datas, Microservices Communication style, Microservices Migration Techniques, Microservices Security, Microservices Testing, Monitoring, and Microservices Reference Architecture. Every topic will be covered with Practical and hands-on training. Our trainers have industry experience with live project experience in cutting-edge technologies which they teach.
Microservices are a new architectural style that allows for modular and distributed applications. Microservices offer several advantages over traditional application architectures, such as greater scalability and agility. The microservice architecture is based on the principle of small, self-contained units of functionality that can be deployed independently and operated as a cohesive system. Microservices provide an effective way to decompose an application into multiple independent parts that can be scaled independently.
Benefits of taking this Microservices Course in Electronic City Bangalore:

There are many benefits to taking this course. Not only will you learn how to design, deploy, and manage microservices, but you will also gain an understanding of the latest microservices technologies and best practices. Furthermore, this course will certify you in the latest microservices practices.
Microservices Certification Course in Electronic City Bangalore Key Features:
eMexo Technologies offers Best Microservices Certification Course in Electronic City Bangalore with the TOP industry expert trainers. Here are the key features.
Why Should You take Microservices Training in Electronic City Bangalore?
Microservices Training Course in Electronic City Bangalore Description:
This Microservices Training Course in Electronic City Bangalore is specifically designed for:
Software Engineer
Senior Web Developer
Application Developer
Java Developer
Spring Boot Microservice Developer
After completing the Microservices Course Training in Electronic City Bangalore, you will be expert in:
Monolithic architecture

Microservice pattern

Microservices architecture and design
Inter communications of microservices
Java core and advanced concepts
Basics of SQL
Working of Eclipse, Netbeans, STS, Intellij or any other IDE
Basics of Application development
Basics of Docker
Microservices Certification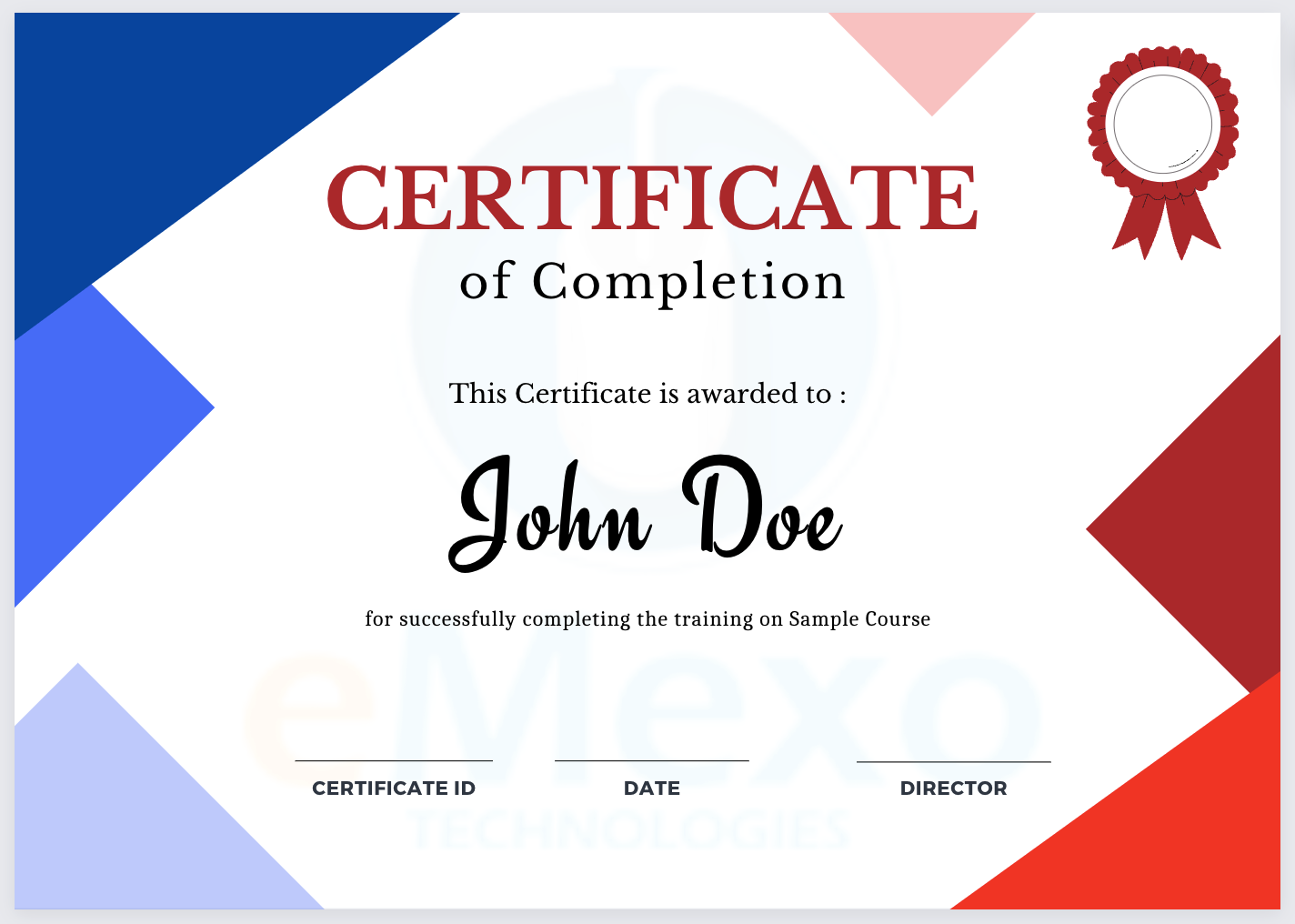 Microservices Certification
Your certification towards a successful career.
Download the Curriculum for Microservices Certification Training Course
FAQs
eMexo Technologies technology provides Microservices training by experienced trainers with over 10 years of experience. We provide complete hands-on training. Over 500 batches completed their training in our Institute. And also we provide100% Job-Oriented training. We guide students in their Certification exams and building their resume. Unique course materials were used for training. We help them to prepare for their job interview. Over 2000 happy students get trained on this affordable pricing.
No problem. eMexo Technologies will reschedule the missed classes within the course period. If required you can attend those topics with any other batches.
All of our instructors are industry experts hired by top companies and have hands-on experience with Microservices.
At eMexo, we believe that there is nothing better than hands-on practice when it comes to learning concepts. our teaching method is 100% practical. You learn a concept, you practice it then and there with the trainer. It also provides assignments for each topic that you can practice at home so that questions about the topic can be clarified to the trainer the next day.
Our trainers are expert professionals in their organizations and they often act as the interviewer to hire new candidates. Our trainers will help you prepare your resume with industry standards. After all, they know exactly what to look for in a resume.
Our trainers are professionals working in multinational corporations. They are experts in their field and they know exactly what the interviewer will look for in the candidate. Experienced trainers not only share interview questions but also conduct mock interviews to help prepare for the actual interview.
Yes, at the end of training we provide a certification of completion.
A System with an Intel i3 Processor or above, minimum 4 GB RAM (8 GB recommended), and an Operating System either of 32bit or 64bit with Java-11 (preferably) or Java – 8 installed
Your access to the Support Team is for a lifetime and will be available 24/7. The team will help you in resolving queries, during, and after the course.
Yes, once enrolled in a course, you will have lifetime access to course materials.
Please contact our course advisor at +91-9513216462 or you can share your queries through info@emexotechnologies.com