Course Overview
Microsoft Azure Training in Electronic City Bangalore Overview
Let eMexo Technologies Best Microsoft AZURE Training in Electronic City Bangalore take you from the fundamentals of AZURE to Advance AZURE and make you an expert in developing real-time AZURE services. Here are the major topics we cover under this  Why Cloud, Introduction to Microsoft Azure Solution Architect Training and Its Services, Introduction to Microsoft Azure Storage, Managing Microsoft Azure Subscription, Azure Resource Management, Azure Virtual Machines & Networking, Azure VMSS & Availability Zones, Managing Azure Virtual Machines, Azure Virtual machine backups, Azure App Services & Its Features, Advanced Azure Hybrid Connectivity and Site Recovery, Azure Storage Solution and Design Patterns, Azure Kubernetes Service, Azure Active Directory and Role Based Access Control, Azure Messaging Service (Events, Hubs, Queue and Bus), Azure Monitoring and Insights Service, Design Identity & Security & Design Storage, Design Azure Migration, Design Monitoring, Design Business Continuity. Every topic will be covered in the most practical way with examples for our Microsoft Azure Course in Electronic City Bangalore.
All the topics will be covered with Practical and hands-on training. Our trainers have industry experience with live project experience in cutting-edge technologies they teach. We hire only the Best Azure Cloud industry specialists as trainers for our Microsoft AZURE Certification Course in Electronic City Bangalore.
If you are looking for Microsoft AZURE Certification Training in Electronic City Bangalore, eMexo Technologies is the Best Microsoft AZURE Training Institute in Electronic City Bangalore.  Come over to our training institute for a free demo class. Let our trainer give you a demo on AZURE and only then do you take the decision to enroll in the training program.
What You'll learn in this Microsoft Azure Course in Electronic City Bangalore?
In this Microsoft Azure course in Electronic City Bangalore, you will learn basics to advanced  concepts on Microsoft Azure. 
At first, You will learn how to deploy and organize Microsoft Azure resources.
In addition, you will learn to build, manage, and execute virtual machines.
Next, you will learn all about configuration and use case implementation of virtual networks.
Finally, You will learn to Implement multi-factor authentication.
Microsoft Azure Certification Course in Electronic City Bangalore Key Features:
eMexo Technologies offers Best Microsoft Azure Certification Course in Electronic City Bangalore with the TOP industry expert trainers. Here are the key features.
Why Should You take Microsoft Azure Training Course in Electronic City Bangalore?
Microsoft Azure Certification Training in Electronic City Bangalore Description:
This Microsoft Azure Certification Training Course in Electronic City Bangalore is specifically designed for:
Freshers
Solutions Architects and programmers looking to build SaaS, PaaS, and IaaS applications
Network and Systems Administrators
Graduates and professionals looking to upgrade their cloud skills
After completing the Microsoft Azure training course in Electronic City Bangalore, you will be able get any of the job role mentioned below :
Microsoft Azure Cloud Administrator
Microsoft Azure Cloud Engineer
Microsoft Azure Cloud Architect
Microsoft Azure Cloud Consultant
There are no prerequisites for attending this Microsoft Azure Training Course. Whether you are an experienced professional in the IT industry or an aspirant looking to enter the world of Cloud, our Microsoft Azure master's programs are designed and developed. A basic knowledge of any programming language will be beneficial for learning Microsoft Azure.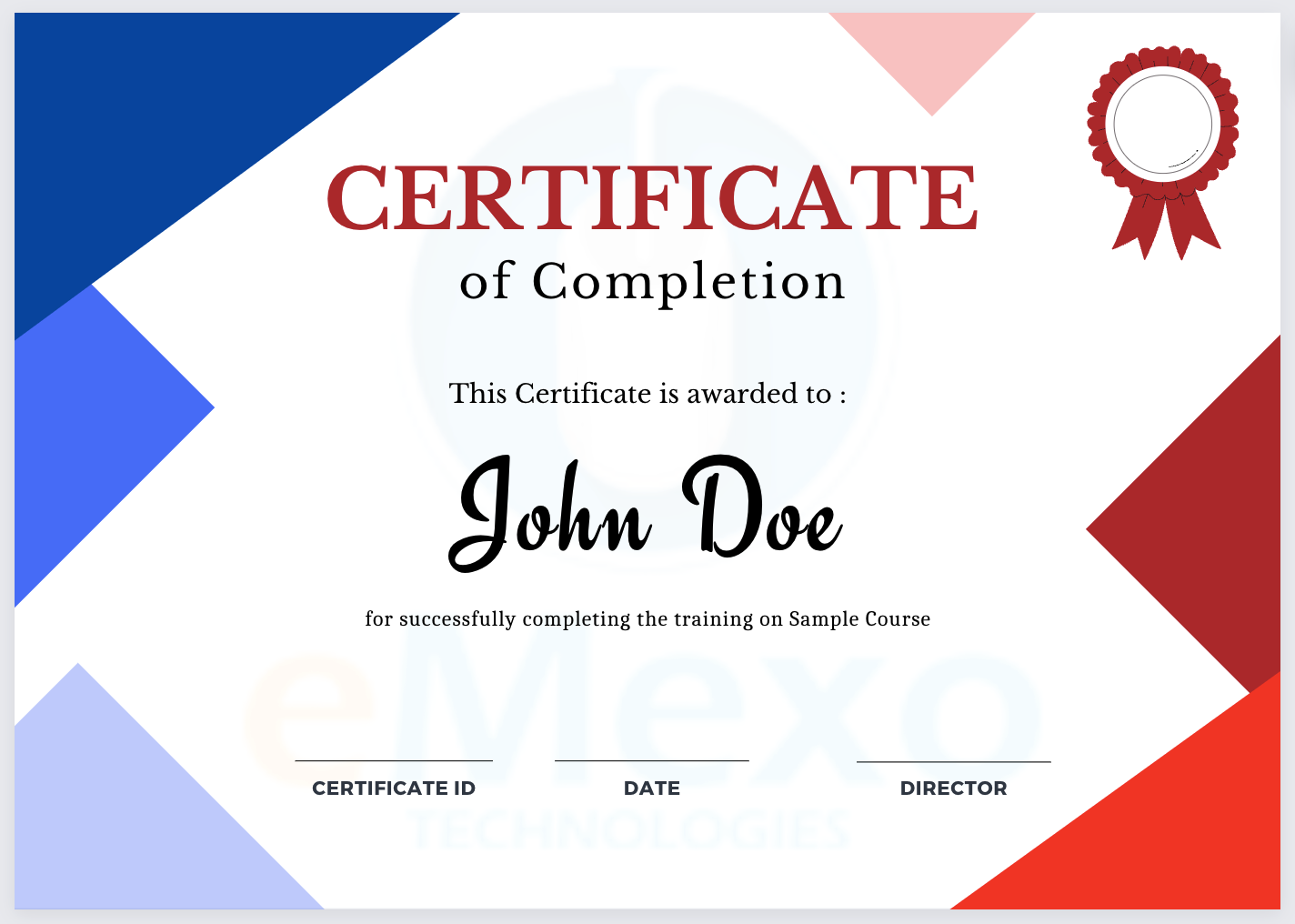 Azure Certification
Your certification towards a successful career.
Azure Certification Training Course
FAQs
eMexo Technologies technology provides Microsoft Azure training by experienced trainers with over 10 years of experience. We provide complete hands-on training. Over 500 batches completed their training in our Institute. And also we provide100% Job-Oriented training. We guide students in their Certification exams and building their resume. Unique course materials were used for training. We help them to prepare for their job interview. Over 2000 happy students get trained on this affordable pricing.
No problem. eMexo Technologies will reschedule the missed classes within the course period. If required you can attend those topics with any other batches.
All of our instructors are industry experts hired by top companies and have hands-on experience with Microsoft Azure.
At eMexo, we believe that there is nothing better than hands-on practice when it comes to learning concepts. our teaching method is 100% practical. You learn a concept, you practice it then and there with the trainer. It also provides assignments for each topic that you can practice at home so that questions about the topic can be clarified to the trainer the next day.
Our trainers are expert professionals in their organizations and they often act as the interviewer to hire new candidates. Our trainers will help you prepare your resume with industry standards. After all, they know exactly what to look for in a resume.
Our trainers are professionals working in multinational corporations. They are experts in their field and they know exactly what the interviewer will look for in the candidate. Experienced trainers not only share interview questions but also conduct mock interviews to help prepare for the actual interview.
If you're looking for a job in Microsoft Azure, consider getting an Azure certification. There are many Azure certifications you can earn. B. Certifications offered directly by Microsoft and the following:Microsoft Certified: Azure Fundamentals, Microsoft Certified: Azure Developer Associate, Microsoft Certified: Azure for SAP Workloads Specialty.There are also additional Microsoft Azure certifications available through organizations that offer workshops and training for those interested in Azure. They provide a range of Microsoft Azure certifications, from basic certifications that help professionals get their foot in the door to advanced certifications that can advance your career ladder in the technology industry. Azure certifications come in varying levels of complexity. For example, consider taking the Microsoft Azure Fundamentals certification exam if you're looking for an entry-level job. There are also associate-level certifications, and then professional and professional certifications.
You should start by understanding the topics you can study on Azure. Azure is huge, but you don't have to learn every Azure service to get certified. Microsoft publishes official exam guides for Azure certification exam questions.You can do it yourself or let eMexo Technologies do it for you. We can help you with your journey. Our Azure courses correspond directly to the official exam guides and are taught by real industry experts who are certified and working in the Azure domain.
Yes, at the end of training we provide a certification of completion.
The Microsoft Azure Solution Architect Expert exam AZ-300 is dedicated to this role. Earning this Microsoft Azure certification is your best choice if you plan to become a Cloud Solutions Architect.
According to the Payscale data, based on 9 salaries, a mid-tier Solutions architect earns an average total salary of Rs. 1,575,000, which includes tips, bonuses, and overtime. Based on 19 salaries, an experienced Solutions Architect earns Rs an average total salary. 2,125,000.
Yes, we also provide fast-track training for those who want to complete the course faster. The curriculum and the total hours required to complete the course will remain the same. However, the trainer will be spending more hours with you to complete the course.
The job positions that you could search for after Azure cloud training are Microsoft Azure Cloud Administrator, Microsoft Azure Cloud Engineer, Microsoft Azure Cloud Architect, Microsoft Azure Cloud Consultant.
We provide both regular and weekend training. Talk to our training partner to learn more about the timings.
Yes, apart from doing the hands-on practice our trainer will also be taking a real-world project and working with you for the implementation.
Yes, absolutely! Talk to our training counselor by phone at +91-9513216462 or email us at info@emexotechnologies.com to arrange a free demo. You can also fill in the contact us form below and we will call you to discuss your training requirements.
Yes, once enrolled in a course, you will have lifetime access to course materials.
Please contact our course advisor at +91-9513216462 or you can share your queries through info@emexotechnologies.com