Course Overview
Selenium Course in Marathahalli Bangalore Overview:
eMexo Technologies is a leading provider of Selenium Course in Marathahalli Bangalore, helping individuals build their skills in automating web applications and advancing their careers. Our expert instructors have extensive experience in Selenium and are dedicated to providing hands-on training and practical experience that will help students succeed in this dynamic field.
Our Selenium training course in Marathahalli Bangalore covers a wide range of topics, including automation frameworks, testing best practices, and more. Our comprehensive curriculum is designed to provide students with a thorough understanding of Selenium and its capabilities, and our hands-on labs and exercises help students gain practical experience with the tool.
At eMexo Technologies, we believe that practical experience is essential for success, and our state-of-the-art facilities and cutting-edge technology provide an ideal learning environment for students to build their skills and grow their knowledge. Our flexible course schedules and customizable training options make it easy for students to get the training they need when they need it.
Whether you are a complete beginner or an experienced professional, our Selenium training in Marathahalli Bangalore is designed to meet your needs and help you achieve your goals. With our commitment to quality and excellence, eMexo Technologies is the ideal choice for anyone looking to advance their career in web application automation.
Take advantage of this opportunity to take your career to the next level with the best Selenium training institute in Marathahalli Bangalore. Contact us today to learn more about our courses and how we can help you achieve your goals.
How will this Selenium Training in Marathahalli Bangalore benefit you?
eMexo Technologies Selenium Training in Marathahalli Bangalore is designed to equip you with the necessary skills and knowledge to become a proficient automation tester. Here are some of the key topics that you will learn in our comprehensive course:
Overall, our Selenium Course in Marathahalli Bangalore is designed to give you the skills and confidence to become a successful automation tester. Our expert instructors will guide you through hands-on exercises and real-world projects, ensuring you gain practical experience that you can apply in your job.
What makes Selenium Training Course in Marathahalli Bangalore so special?
At eMexo Technologies, we offer a comprehensive Selenium Training Course in Marathahalli Bangalore that covers all aspects of test automation using Selenium WebDriver. Here are the key features of our Selenium course:
By taking our Selenium Training Course in Marathahalli Bangalore, you will gain the confidence and expertise needed to build robust test automation frameworks using Selenium WebDriver.
Is Selenium Training in Marathahalli Bangalore right for you?
Selenium is a widely used open-source automation tool for web application testing. Taking Selenium Training in Marathahalli Bangalore can benefit individuals in several ways:
If you're interested in pursuing a career in the field of Software Testing, taking Selenium Course in Marathahalli Bangalore at eMexo Technologies can be incredibly beneficial.
Selenium Course in Marathahalli Bangalore FAQ:
Frequently Asked Questions about Selenium Course in Marathahalli Bangalore:
Selenium Training Course Certification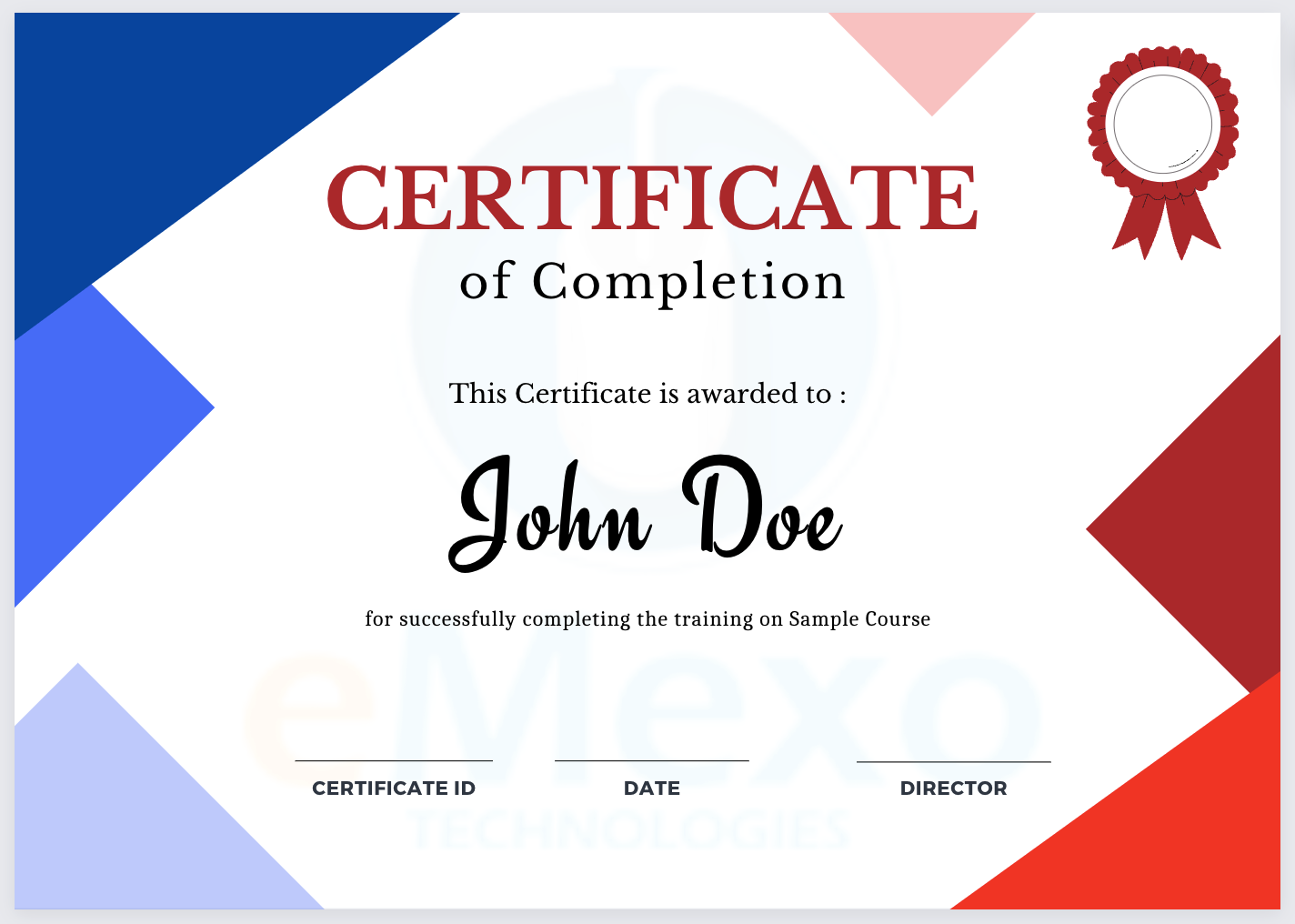 Automation Tester Using Selenium Certification
Your certification towards a successful career.
Download the Curriculum for Selenium Certification Training Course
FAQs
We make sure you never miss a lecture at eMexo! You can select one of two options: 1. The missed session can be attended in any other live batch. 2. You can watch the recorded class session in your LMS. So what are you waiting for then, lets enroll with eMexo Technologies and learn the best Selenium course in Electronic City Bangalore with Top Industry Expert instructors.
eMexo Technologies technology provides Selenium training by experienced trainers with over 10 years of experience. We provide complete hands-on training. Over 500 batches completed their training in our Institute. And also we provide100% Job-Oriented training. We guide students in their Certification exams and building their resume. Unique course materials were used for training. We help them to prepare for their job interview. Over 2000 happy students get trained on this affordable pricing.
All of our instructors are industry experts hired by top companies and have hands-on experience with Selenium Automation Testing.
At eMexo, we believe that there is nothing better than hands-on practice when it comes to learning concepts. our teaching method is 100% practical. You learn a concept, you practice it then and there with the trainer. It also provides assignments for each topic that you can practice at home so that questions about the topic can be clarified to the trainer the next day.
Our trainers are expert professionals in their organizations and they often act as the interviewer to hire new candidates. Our trainers will help you prepare your resume with industry standards. After all, they know exactly what to look for in a resume.
Our trainers are professionals working in multinational corporations. They are experts in their field and know exactly what the interviewer will look for in the candidate. Experienced trainers not only share interview questions but also conduct mock interviews to help prepare for the actual interview.
Yes, at the end of training we provide a certification of completion.
Yes, we also provide fast-track training for those who want to complete the course faster. The curriculum and the total hours required to complete the course will remain the same. However, the trainer will be spending more hours with you to complete the course.
We provide both regular and weekend training. Talk to our training partner to learn more about the timings.
Yes, apart from doing the hands-on practice our trainer will also be taking a real-world project and working with you for the implementation.
Yes, absolutely! Talk to our training counselor by phone at +91-9513216462 or email us at info@emexotechnologies.com to arrange a free demo. You can also fill in the contact us form below and we will call you to discuss your training requirements.
Yes, once enrolled in a course, you will have lifetime access to course materials.
Please contact our course advisor at +91-9513216462 or you can share your queries through info@emexotechnologies.com